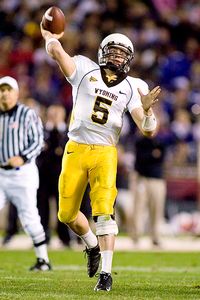 Austyn Carta-Samuels named Mountain West Freshman of the Year. TCU sweeps the rest of the individual awards. ACS was named Player of the Week and certainly deserves this honor.
2009 Stats - Austyn Carta-Samuels
1,752 passing yards 7 touchdowns
295 rushing yards 3 touchdowns
30 recieving yards 1 touchdown
5-4 record as a starter.
Full
release
from the Mountain West Conference.