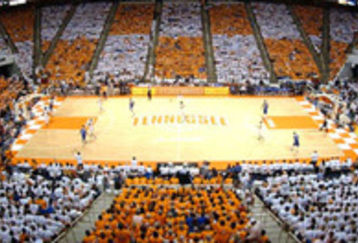 Slightly different preview for the Wyoming - Tennessee matchup that is tommorow in Knoxville, TN stating at 5pm MST. The Cowboys face their toughest challenge of the season when they take on the #9 ranked Volunteers. Tommorows game will be broadcast on ESPN U and will be the only time this season the Pokes will be playing on an ESPN network.
Will Shelton of
Rocky Top Talk
a UT blog was kind of enough to answer a few questions about the Volunteers. I've answered the same questions regarding the Cowboys and they will appear on Rocky Top Talk tommorow.
Can the Cowboys pull off the
upset
like the football team did last year? That would be hard to do but sometimes the Pokes perform their best when playing the bigger schools.
Thanks again to Will for helping me out and hopefully tommorow is a good game to watch.
-------------------------
#1. What players should we watch out for on Tuesday night for the Volunteers? Who is underrated?
Tennessee's two best players are senior forwards Tyler Smith (13 points, 5 rebounds per game) and Wayne Chism (12 points, 7 rebounds per game). Smith and Chism are 6'7" and 6'9", but both can also play on the perimeter. From there, Tennessee has a handful of guys who are capable of going off on any given night, and it's usually someone different each time that's complimenting Tyler & Wayne. Sophomore guard Scotty Hopson actually leads the team in scoring, but is wildly inconsistent: Hopson has scored 20+ three times this season, but struggled in Tennessee's two biggest games with 13 combined points against DePaul and Purdue, and scored only one point against MTSU on Friday. Keep an eye out for guard Cameron Tatum, who's been a pleasant surprise this season.

#2. What has been the most impressive win of the season so far?
The Vols have only played one major opponent, a 73-72 loss to #5 Purdue in the Virgin Islands. The Vols struggled with DePaul in the semifinals of the same tournament, winning 57-53. Tennessee has a couple of solid wins over decent mid-majors in College of Charleston and ETSU. The Vols also beat UNC-Asheville by 75 points.

#3. How far can Tennessee go this season in the SEC and tournament?
In the SEC, Kentucky is receiving all the hype right now, and they're clearly very talented. The majority would probably consider the Vols the second best team in the conference right now, with Florida also coming on strong. I think right now, those three teams are the class of the SEC...if Kentucky continues to mature, they're going to be very difficult to beat, but Tennessee should be right there with them at the top of the league. Beyond that, Tennessee has never made the Elite Eight, so that's always a goal. Against good teams, this team is going to go as far as Scotty Hopson will allow them - when he's not playing well, the Vols are merely a good team. If they want to be great, they need Hopson to be great.

#4. What is one area of weakness for the Volunteers?
Consistency beyond Tyler & Wayne is the biggest question mark right now. The Vols have incredible depth, so the fact that you never know where those other points are going to come from hasn't been a problem in the early part of the schedule, because there are so many good options. But in games when Tennessee has to have key contributions from more than two guys, can someone step up and become that definitive third guy? We think it's Hopson, but we don't konw for sure. The Vols can also have some offensive lapses with poor shot selection, and haven't done a great job managing 10-15 point leads against teams with lesser talent, allowing those leads to be worked back down too frequently.

#5. What is the typical offensive game plan for the Volunteers?
Since Tennessee has so many guys that are capable of hurting the opposition in so many ways, it varies depending on who's hot. Minutes and rotations are still being ironed out, so there's not a definitive feel to the offense yet - Tennessee has seven players who average at least five shots per game, so the wealth is usually shared. Generally, the Vols like to run, and the faster the tempo the better - the Vols will use a 10 or 11 man rotation, and fatigue won't be a factor for them. Tennessee will press defensively to help increase the chaos. Hopson and Tatum are both capable of shooting from outside and slashing to the hole. The Vols usually have at least three guys on the floor that can knock down a three as well. Again, you know Tyler and Wayne are going to get theirs, it's just a question of where the rest is coming from.