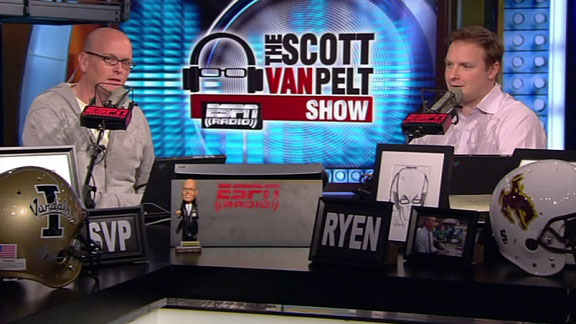 Image Courtesy of ESPN
Eric Schmodlt posted a
question
on his blog earlier this week on what Wyoming fans thought of the Scott Van Pelt Show and their admiration for Poke QB Dax Crum or at least his name. Well the show emailed Schmodlt and
expressed
that they don't mean to make any slight of Wyoming or their players.


Here are the comments from Van Pelt and Ryen:
From Russillo, who pointed out that the origin of the Dax Crum bit came when Crum was starting for UW two seasons ago: "At first I just thought it was a
different name, his story was interesting and I was rooting for a comeback. So I
started following him a little. ...

"I have never had the intention of making fun of the team" and feel terrible if the players feel that way. I know that Austyn is the starter and he had a great season, we like Wyoming. That's it. I don't know a ton about Wyoming football, I'd be lying if I said I did, but we kind of adopted the team. I love the helmet, I think you have
a great coach, a lot of fans have told us that they love seeing the helmet on
our set and I thought it would be cool to show some support for a program that
doesn't get any national publicity."


I think it does help to have the helmet on the show fairly often. I have watch the SVP show on ESPNU on weekdays that I have off and I love seeing the Wyoming helmet there. If they would actually mention Wyoming or any Mountain West School once a week that would be great. It drives me nuts they spend some much time talking about Alabama, Florida, Ohio State, USC, Texas etc...
From Van Pelt: "We have gotten a ton of love from
the Wyoming coaches,
specifically Coach Christensen who sent a note that they seemingly enjoyed their
status, along with Idaho, as the helmets on our desk during the show.

..." The irony here is, we KNOW who [Carta-Samuels] is. I watched him in
several games last year and he (and the whole team) were great in the bowl win
over Fresno."
Van Pelt also mentioned that he wanted to interview Carta-Samuels at some point during the season. I would love to have either member of the show come to Laramie and actually experience a game in person.